產品介紹Product Introduce
Absorber is a kind of material, which can transfer electromagnetic radiation to thermal energy. In engineering application, this material can absorb leakage of electromagnetic radiation in electronic equipment, which can achieve the purpose of eliminating electromagnetic interference. In addition to requiring the absorbing materials to have a high absorption rate for magnetic waves in a wide frequency band, it is also required to have light, temperature resistance, moisture resistance and corrosion resistance…etc..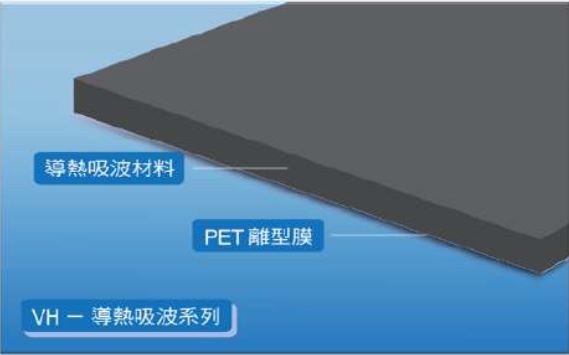 Properties
This product is a mixture of magnetic material and silicone resin.
This product has both of thermal conductivity and absorbing effects.
This product is thin and suitable for narrow spaces.
It can be made of various shapes and easy to apply.
The product is soft and natural tacky.
The product has excellent absorption for electromagnetic wave.
Meet environment protection.
Application
Computer, TV, communication equipment, networking equipment, cooling module…etc.